The cottage is located on the island of La Maddalena, in one of the, for those who love the sea, most beautiful and fascinating of all the Mediterranean.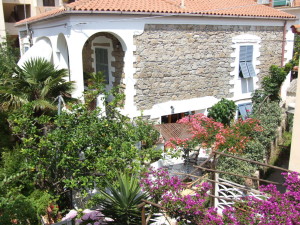 The Bed and Breakfast (B & B) was built in 1965 in an area of ​​the country not far from the center (about 300 meters), built inside a small but beautiful garden away from the noise, reserved and quiet. The hosts have turned their home into a place of harmony and artistic taste where everything has been designed in the most pleasant way to put at ease the guest during his stay.
The house has 3 bedrooms of about 20 square meters., furniture decorated in pastel tones enhanced with aging techniques. Two rooms, the "Classic" and the "Superior", have a private bathroom while the camera "Standard" has an external private bathroom, made by craftsmen and covered with colored resins.
The warm hues of yellow, ocher, of orange and honey create a special atmosphere, pleasantly welcoming the guest.
The rest of the house is divided into the living area where you can, the common area, relax immersed in a reading or socializing with other guests.
Breakfast can be enjoyed in the garden, the shade of the lemon tree or under a small gazebo. If the weather does not allow, breakfast will be served inside the house.